Jeanette Paddock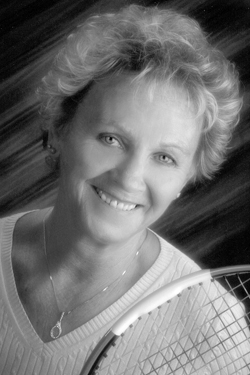 Jeanette's involvement in tennis spans three decades. An intense competitor and winner of National, Intermountain and Colorado titles, she has also been a dedicated and highly successful high school coach. Jeanette was a pioneer NTRP verifier at the district and sectional levels, and a founder and coordinator of the southern Colorado Junior Team Tennis program. Since 1985, she has been a USPTA teaching professional and the Director of Tennis at Lynmar Racquet Club in Colorado Springs, where she has organized numerous tournaments, events and tennis programs. As a player, Jeanette's top competitive years were 1971-1991. In age division competition, she has won national doubles titles on clay and indoor hard courts, and was a national indoors singles and doubles runner-up as well as grass court doubles runner-up. Jeanette held national rankings for ten years, and was ranked as high as No. 11 in Women's 35 Singles. In 1983, she played in the 35s division of the U.S. Open. Jeanette held the No. 1 ranking in 35 singles in the Intermountain Section for five consecutive years in addition to top 3 rankings in 40 singles and 35 doubles. She is also the title-holder of numerous southern Colorado open singles championships.
Jeanette was the recipient of the National USPTA Female Player of the Year - Open Division in 1987, and again in 1990 for the 35s division. She was the Intermountain USPTA Player of the Year from 1987-91 for the 35s Division. Jeanette was inducted into the Colorado Sportswoman Hall of Fame in 1987.
As head coach at Air Academy High School, Jeanette produced her first state champions in 1982 at the No. 1 doubles position. In the 2004 and 2005 seasons, her teams placed second in 5A competition, and earned three individual state titles, including the 2005 No. 1 singles championship. In 2004, her squad was awarded the Colorado Tennis Association's Willa Wolcott Condon Award for the outstanding girls' high school tennis team, and Jeanette received All-Colorado Girls Tennis Coach of the Year honors. Jeanette was named USPTA-Intermountain High School Coach of the Year in 2002 and again in 2005. Jeanette has also served as chairperson and member of the Colorado High School Activities Association's tennis committee, and sat on the original board of directors of the Pikes Peak Community Tennis Association.