Kent Woodard
(1952- )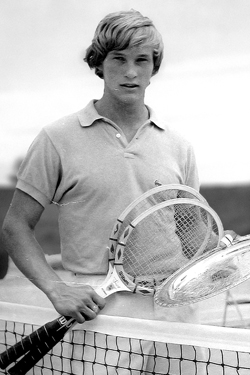 Kent was 7 years-old when his father built a tennis court in the backyard of his family's Grand Junction home. Before that, no one in the family had ever played tennis. By the time he was 13, he was competing across Colorado, and in regional and national tournaments.

For two years, Kent played on the perennial top-10 University of Utah tennis team. He later transferred to the University of Colorado at Boulder, where he competed at No. 1 singles and doubles.

After college Kent started dominating the Colorado tournament scene. He amassed 13 titles at the Denver City Open, Colorado State Open and Intermountain Sectional Championships combined.

But Kent wasn't just a Colorado phenomenon, he also traveled around the world playing tournament-level tennis. He finished sixth in singles on the South African Tour, and played pro tournaments in Sweden and Spain.

After his competitive days, Kent spent many years as a tennis professional at the Maroon Creek Club in Aspen.