Sherrie Pruitt Farris
(1947- )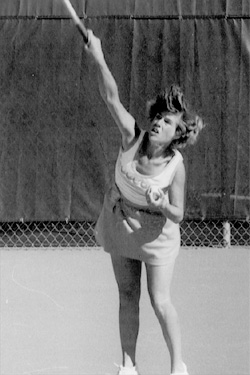 As a junior player, Sherrie was nationally ranked as high as No. 4 in singles. In Championship level competition, she was ranked as high as No. 3 while amassing an amazing 26 titles (9 singles, 17 doubles) in the Colorado State Open, Denver City Open and the Intermountain Sectional.
Sherrie began her teaching career in 1969 at the Denver Tennis Club, and since 1980 she has served as the Director of Tennis at Broomfield Swim & Tennis Club.
Sherrie was a Colorado Tennis Association board member from 1970 to 1978, and an Intermountain Tennis Association board member for a decade, serving as President in 1995-96. In 1982 she received the CTA's highest honor – the Bud Robineau Award. Sherrie was also presented with the David Freed Award, given by the ITA to recognize lifetime service to the sport of tennis.